Scottish Cross Route
Home > Scottish Cross 2018 > Route Outline (Back to normal view)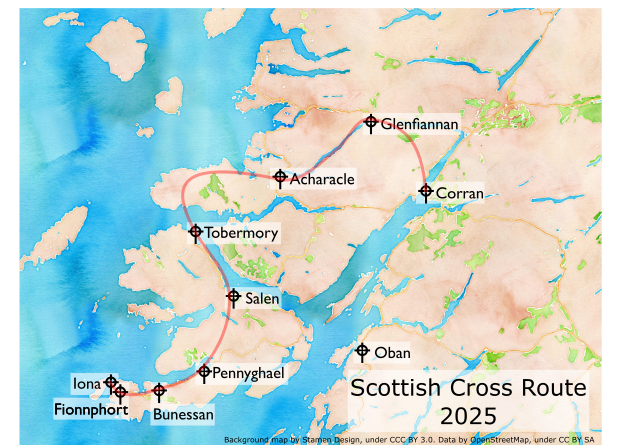 In 2018 the Scottish Cross pilgrimage we will be walking the spectacular Moidart Route starting just south of Fort William at Corran and arriving on Island of Iona on Easter Saturday. We have made a number of small changes for the 2018 route which will make it even better. These changes include a stunning new section along north coast of the Ardnamurchan Peninsula, a return to staying in Pennyghael community hall, a revised and exciting Good Friday cliff top walk and a pilgrimage route which can be entirely walked from start to finish each day.
The Moidart Route is a beautiful, exciting and - in places - challenging route comprising of paths, sometimes muddy tracks, forestry roads and some wild walking where there are few paths apart from the occasional sheep track. There is also a small amount of road walking. There are a number of ferry trips to cross lochs and the sea to Tobermory and Iona. Some of the Moidart route follows old traditional pilgrim routes and through a part of Scotland which is rich in history. The route crosses wild and stunning countryside where eagles, deer and occasionally wild cats can be seen.
The pilgrimage is 115 miles in total (185 km), with most days averaging around 16 miles and this will often include a number of hills. While not all the hills are very steep the terrain is rough and going up and down hills can make tiring walking and increase the distance. Pilgrims should be fit and confident walkers and ideally have some experience of hill and wild walking. Weather can be extreme - from being very cold, snowing, heavy rain, but often there are days of sun and with the occasional swim! Good outdoor clothing and boots are essential (please see kit list).
The accommodation is simple with a mixture of sleeping on church, village hall floors and nights at independent hostels. Breakfast, sandwich/picnic lunch and delicious hearty evening meals provided each day.
The pilgrimage is overseen by a group of experienced and helpful volunteers, with walking being led by experienced outdoor leaders who are first aid trained. You can choose to undertake all of the pilgrimage or on certain days it can be possible to join for a single/part of a day (please enquire).
If you would like to discuss the route or have any questions over length of days and level of fitness needed please contact us. Please note the heights for each day listed below are not the accumulative height gained over the day but the highest single point.
Day 1. Saturday, 24 March: Start at Loch Linnhe
Accommodation: Corran Bunk House (showers available). Arrive at 1800.
The Corran Bunk House, South Corran, Onich sits on the shores of Loch Linnhe and about eight miles south of Fort William.
Day 2. Palm Sunday, 25 March: Corran to Glenfinnan.
Accommodation: Glenfinnan Catholic Church and Station Museum Sleeping Car. (Toilets and one shower available in Sleeping Car). Distance: 16.5 miles. Highest point: 200m (650ft). Grade: Moderate - a long first day, with one steep climb and long (sometime muddy) decent.
The pilgrimage walk starts outside Youth Hostel and then Conaglen House (023683). This is a beautiful first day walking into wild countryside with breathtaking views and scenery. We walk up Cona Glen along a rough Land Rover track for 11 miles, a steady climb to 650 feet. After 11 miles we head up a steep track and over the broad ridge 'Feithnana Con' and drop down through woods and next to the Callop river eventually meeting Loch Shiel. The three mile track down from 'Feithnana Con' can be hard going especially if it is wet and muddy. We then take a forestry road and wooden foot bridge over the base of Loch Shiel and walk up the road to the Glenfinnan Catholic Church and Station Museum railway sleeping car where we will stay the night. During the morning walk we will celebrate Palm Sunday.
Day 3. Monday, 26 March: Glenfinnan to Acharacle via Polloch Pier
Accommodation: Acharacale Village Hall (no showers). Distance: 18 miles. Highest point: 10m (30ft). Grade: Moderate - a long flat walk which can be tiring due to distance.
We leave Glenfinnan station and head back to the Callop River which we passed at the end of the first day. We then turn west and head along the shores of Loch Shiel for 12 miles. This is a very beautiful long walk along the shore of Loch Shiel. At Polloch Pier (12 miles) we will be met by a small fishing boat which will transport us in small groups across Loch Shiel via beautiful Green Isle and St. Finnan's Chapel (where if time allows we may stop to visit). This is the route that the coffins were brought to sacred ground in years gone by and an area rich in history. It was the area in which Bonny Prince Charlie fled and raised his last army. It is area of Scotland which was and remains strongly Catholic since that time. On crossing we follow a path and farm track to Dalelia and then minor road for a 6 mile walk into Acharacle. If tired, it is possible to take the mini bus to Acharacle.
Day 4. Tuesday, 27 March: Acharacle to Tobermory via Ockle & Kilchoan
Accommodation: Tobermory Church of Scotland Church & Hall (showers Marina possible). Distance: 20 miles. Highest point: 50m (188ft).Grade: Moderate - farm track, rough path and minor road.
We walk out of Acharacle past the village school and then up over the Moors and onto the Ardnamurchan Peninsula and north coast. This is again wild and beautiful countryside and the western most point of the Scottish mainland. If clear there will be magnificent views to the Outer and Inner Hebrides - Skye, Rum, Egg, Muck and Mull. This is also the route that the local Church of Scotland Minister used to take every Sunday - starting with a morning service in Acharacle and then walking the coast path for his next service in Kilchoan. We head along the north coast of the peninsula and will stop for a mid morning break at the famous and remote Singing Sands Beach. We then pick up a rough path and head along coast to Ockle. At Ockle we join a minor road to Kilmory and then onto Kilchoan. At Kilchoan there is chance for tea at the local community centre before taking the ferry to Tobermory on Mull. We will be staying at the Tobermory Church of Scotland Church & Hall.
Day 5. Wednesday, 28 March: Tobermory to Salen
Accommodation: Church of Scotland Church & Hall (no showers). Distance: 15 miles. Height: 100m (330ft). Grade: Easy - walking along minor 'B roads' and forestry tracks/roads.
We will walk out of Tobermory and on the road leading south-west towards Calgary. This is a lovely road walk taking us across the moors and past small lochs for about 3.5 miles. We then turn left off the road and follow a good track running alongside Loch Frisa. This is well known golden eagle countryside and also with a number of hides (bring your binoculars!). We then drop down through woodland and pick up a track at Glenaros House Farm and past Katie's Cottage (1.7 km) for the last 1.5 miles to village of Salen. In Salen we will be staying at the Church of Scotland Church & Hall.
Day 6. Maundy Thursday, 29 March: Salen to Pennyghael
Accommodation: Pennyghael Community Hall (no showers). Distance: 17 miles. Highest point: 450m (1500ft). Grade: Moderate/difficult - hill walking day with steep and long climb and long descent.
On Thursday morning we will walk south 4 miles from Salen to Knock Farm. We will then we pick up the farm track behind Knock Farm taking us round the back of Ben More (950m). After 3 miles we will head off towards the lower saddle of Ben Moore in order to cross the ridge, this is a steady and straight forward climb. This is a great day and the highest part of the pilgrimage at approximately 500m. On the ridge we head right down a main track towards the valley and road from where there is nice 4.5 mile walk along the road into Pennyghael, where we will stay the night at the community hall. During the evening we will celebrate Maundy Thursday and the Last Supper.
Day 7. Good Friday, 30 March: Pennyghael to Bunessan via Carsaig and the cliff tops
Accommodation: Bunessan Baptist Church (showers available). Distance: 16 miles. Highest point: 200m (600ft). Grade: Difficult - a hard day's walking across wild countryside, cliff tops and forest trail.
We walk out of Pennyghael taking road towards Carsaig for 3 miles from where we will proceed south along the high cliff tops. Much of the route will be across wild and beautiful country and with no obvious path, apart from sheep tracks. Care needs to be taken when walking near the cliff tops especially if the weather is poor and windy. We will stop on the cliffs mid-afternoon for the Good Friday service. The last 6 miles into Bunessan is on forestry tracks and a minor road. Bunessan is a small picturesque fishing village and where we will stay at the Baptist Church.
Day 8. Holy Saturday, 31 March: Bunessan to Fionnphort and Iona
Accommodation: Creigh Hall, Fionnphort Village Hall (showers available).

Distance

: 10 miles. Highest point 5m (20ft). Grade: Easy - road and track walking.

On Saturday morning we walk out on road towards Fionnphort for 6 miles and then turn left on the Pottie farm road. The last 4 miles to the Iona ferry follows a clear path and then minor road across farmland. We arrive on Iona around 12.00.

Once we arrive on Iona, for those interested there is usually a walk around part of the island on Saturday and Sunday and even a swim! On Saturday and Sunday nights we will be staying in Fionnphort at the village hall (known as Creich Hall). On Saturday evening we will celebrate the Easter Vigil at Creich Hall.
Day 9. Easter Day, Sunday 1 April
Accommodation: Creigh Hall, Fionnphort Village Hall (showers available).
We return to Iona for Easter Day Service and celebrations with the Iona Community, local community and visitors.
Day 10. Easter Monday, 2 April
We will leave Fionnphort early on Easter Monday morning and travel across Mull in time to get the ferry to Oban, where our pilgrimage ends.